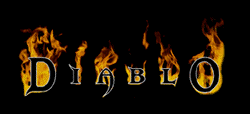 Last Updated 12/5/02
Marathon | Starcraft | Diablo | Quake | Warcraft 2 | Myth | Carmageddon | Macintosh | IRC | Miscellaneous | Home
Click here to visit my Diablo Uniques page.
Click here to visit my Diablo Inventory page.
Click here to visit my Diablo Shrines page.
Diablo is a wonderful strategy game from Blizzard. You take the role of one of three classes of heroes: warrior, rogue, or wizard. The warrior is primarily hand-to-hand fighting only, the rogue is primarily an archer, and the wizard is primarily magic. Currently, I have a level 38 warrior, a level 18 rogue, and numerous item storage characters. If you're just starting Diablo, I recommend that you go to my shrines page to find out which shrines to/not to touch. Beware of who you play with on battle.net. There are many player killers looking for people to kill. Most of them cheat, using hacked/duplicated items and most are almost invincible. I recommend that you try to play games with people you know. I have never played in a public game on battle.net, nor do I intend to.
Links to other Diablo sites:
Anduril's Book of Diablo - This is the best all around Diablo site on the Internet. It was also created by a Burning Blade clanmate of mine.
The Unholy Battlegrounds - This is a great page for all things Blizzard related.